Our product of the week this week is the Sense Firming body nourisher.
FIRMING BODY NOURISHER contains many skin-specific plant extracts to hydrate, firm, nourish, and soften the skin.Echinacea and centella asiatica tighten the skin and maintain elasticity. Shea butter, mallow, and Irish moss act as intense moisturizers and skin softeners, while glycolic and salicylic acid helps to clear dry skin and ingrown hairs.  This product is a must for anyone who suffers from ingrown hairs on any part of the body.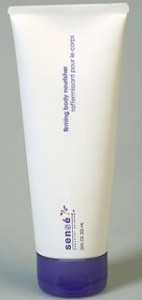 How to use: Applied daily the glycolic acid contained in the firming body nourisher acts to break the bonds between dead skin cells, so that when you exfoliate the next day the dry skin sloughs right off and any hairs trapped under the skin are able to grow through. Firming Body Nourisher retails for $44.
We recommend this product be used in conjunction with the Riffi mitt which retails at $20.