We're now coming into the Summer busy period and guess what? Apart from the bikini wax/daddy long legs we need to get our feet into order too!
The average person takes 8,000 to 10,000 steps a day, which adds up to about 115,000 miles over a lifetime! That's a lot of stress on your feet!
There are benefits apart from your feet looking Summer happy!
Exfoliation and removal of dead skin cells, prevents the cells from accumulating and causing bunions or corns, which can be painful.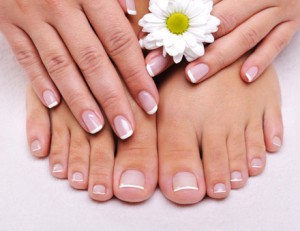 Having calluses on your feet can cause uneven pressure when you walk or stand that can also lead to the pain you feel when on your feet all day.
Exfoliation also encourages stimulation of collagen and a fresher appearance.
Massaging helps stimulate the blood flow to the feet and legs so therefore helps to feed the skin in these areas as well as lets face it, a great foot massage feels amazing!
Massaging certain spots on someone's foot sends signals to other parts of the body to encourage overall health improvement anywhere in the body.
Our Spa Pedicure includes:
Soak, nail shape and buff, cuticle tidy, rasp the dead skin, foot and half leg scrub and massage and finally nail paint with OPI nail varnish.
We also Buff and Polish:
Nail shape or Nail Buff and nail paint with OPI nail varnish.