IPL on Hair results are dependent on the area, skin colour and hair colour and more!
It is so important to know that as brilliant as IPL Hair Reduction is, there are varying degrees of results depending on certain factors.
The number one determining factor is skin and hair colour.
The results are  definitely dependent on the clients skin and hair colour, most of us know this. If for example you have fair skin and 60% dark hair, that hair will die over the course of your treatments. Three months on from your very last treatment, the other 40% will all come through. This was the fluffy lighter hair, that do not have enough colour to attract the IPL. Some clients see a result of 99% reduction of their hair and some may see only 20% result reduction, the remaining hair will be so weak and generally we may suggest electrolysis single or multi probe to completely kill, sometimes after 5-6 regular 8 weekly waxes, this hair will die. This is due to being terminal hair. Unlike hormonal hair which is explained down the page.
Other factors come into play:
Having darker skin, the darker the skin gets the lesser the contrast in the 2 colours (skin colour and hair colour). Certainly the inner bikini/brazilian area is an example of this where the skin is browner (eg: European) or more red (eg: Irish/Australian)
Hormones, unfortunately we can't live with them and can't live without them!
Hormonal areas, (face, breast, tummy and back) as mentioned in our electrolysis blog will be extremely weakened with 6 sessions of IPL but not completely killed, generally these areas will need maintenance IPL sessions (generally about 4-6 sessions a year, some people get away with a few sessions a year depending) The other option is to continue on with electrolysis around 4-6 weeks on from your last treatment.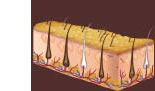 Sweat definitely interferes with areas like underarms, however there are obviously ways around this. Homecare and preparing the area helps to decrease the sweat which will make for a better result. This is discussed in detail in our consultation.
Arms can have amazing results by minimalising a lot of hair but clients are usually very happy with the results as it looks more natural than the practically bald look we're aiming for on legs, bikini and underarms.
Legs can on occasion have left over dead hairs that remain, it's actually the very base of the hair shaft that is slightly ingrown, they often look like little dots. This is easily fixed with aftercare.
There is zero consultation fee with a Depskin IPL therapist.
Depskin receptionists are also qualified IPL therapists.
Melbourne based IPL hair removal: Depskin: Your body, Your beauty.